Resources
Papers and Presentations
Stewardship Gap Analysis
We identified several gaps that contribute to an overall gap in the stewardship of research data. A categorization and analysis of the gap areas as identified from the literature, is available at stewardshipgap.net.
The Stewardship Gap Bibliography
The Stewardship Gap Bibliography is a bibliography of resources relevant to study of the stewardship gap: the gap between the existing amount of valuable research data or creative work resulting from sponsored activities, and the amount that is being effectively stewarded and made accessible. The bibliography is posted on Zotero.
The image below shows a tag cloud of the different subject areas in the bibliography that have been tagged. You can navigate within the bibliography to see the works associated with these areas by clicking on the tags in Zotero. The tags associated with our project are prefixed with "sg" for stewardship gap, and most contain the word "data" as well. Some examples of tags are "sg_data_archiving", "sg_data_description", and "sg_data_sharing". In order to see the Stewardship Gap tags, you will need to click the "More" button underneath the tag cloud that appears in the left column of the screen on the Zotero website. To view only Stewardship Gap tags, type "sg" in the search box above the tag cloud.
The tags are used both to highlight major themes present in the tagged work, and to highlight specific ideas within works that are important to the study of the stewardship gap. Most works have more than one tag.
Access the Bibliography on Zotero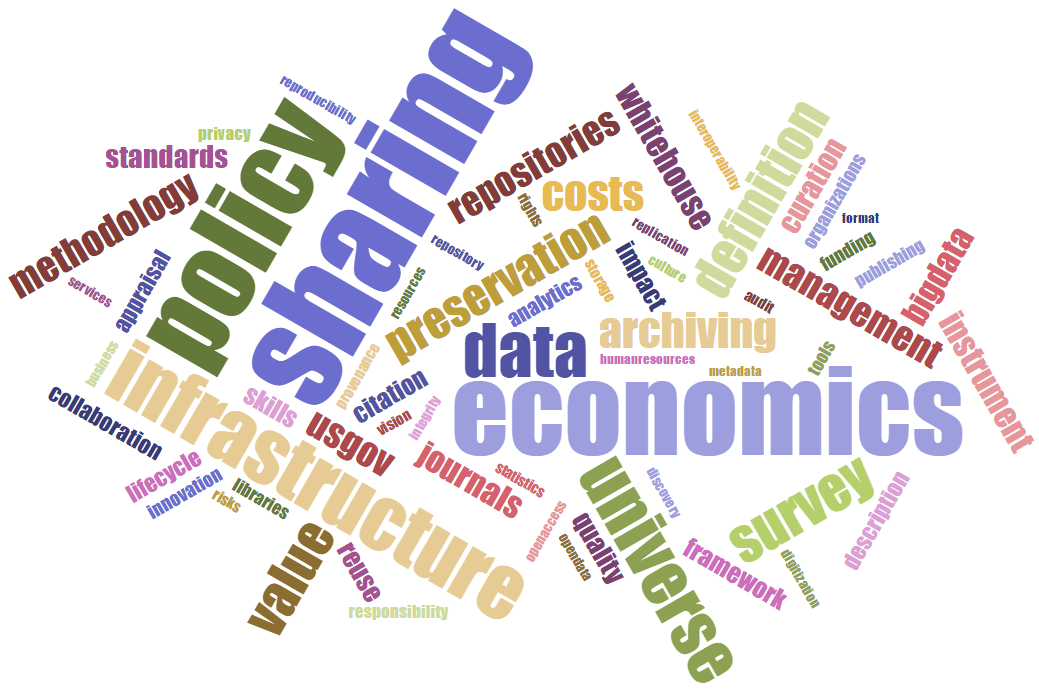 Tag cloud generated 1/10/2016 from https://www.jasondavies.com/